General Vision on Revitalization of Kamagasaki
Interim report for the general vision was compiled at the 8th forum on July 15, 2000. As a result, the following process of revitalization was suggested based on the plan of "Utilizing 2000 Vacant Rooms" in cheap lodging houses --the first stage as the urgent actions for homeless people and the second stage as drastic measures for revitalization.
First Stage / Urgent Actions for homeless people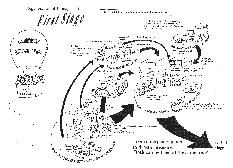 pdf(241kb)
Plan of "Utilizing 2000 Vacant Rooms" is suggesting that Osaka City lease 2000 rooms from the Hostel Association for several years (3-5 years) and manage the rooms as two kinds of facilities as described below:
Shelters simply as living care centers that house homeless people who wish to work for short periods of time --one to two weeks

Rehab Centers that house patients who are being discharged and those who have been discharged from shelters for needed the amount of time(3-5 months) for them to recover enough for job-hunting.
To implement the plan, we will assist with the management of the facilities and our staff will support the resident laborers. However, Osaka City has not agreed to this plan for the following reasons --"the plan does not give job opportunities for them to be self-reliant", "private rooms in the size of 3-jo (less than 5sqm) are not appropriate for a shelter (too gorgeous)" and so on.